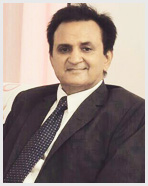 Name:Ved Parkash Patial
Qualification :M.Sc. , Ph.D. , PGDCA
                     NET-JRF (CSIR) Chemical Sciences
email:   patialvp@yahoo.in
Mob +91-94180-07398,  9816634500
Did B.Sc. from Panjab University Chandigarh and M.Sc. from HP University Shimla with specilisation in Organic Chemistry. After qualifying NET-JRF of CSIR, completed  Ph.D.  in Synthetic Organic Chemistry. Having teaching experience of more than 21 years in various Undergraduate and Post Graduate colleges of Himachal Pradesh, has published more than a dozen research papers in various national and international journals . Guided more than fiften research scholars for M.Phil. degree and presently guiding Ph.D. scholars also.  Selected by UPSC New Delhi as Reader in Chemistry, NDA, Khadakwasla Pune, completed minor and major research projects of UGC, awarded  PDF by UGC New Delhi and had been member of various Academic and Science Socities. Having nine subject books, three General Knowledge  books and one year book in his credit. Selected as Dean in Himachal Pradesh Technical University in December 2013. Presently working as Dean (Planning & Development) cum Controller of Examination in Himachal Pradesh Technical University Hamirpur (H.P.).
We, at Examination Section, Himachal Pradesh Technical University Hamirpur, envisage the need for radical reforms in traditional examination, practical and assessment system and are working towards evolving a credible, valid, effective and transparent evaluation system that responds confidently to the global challenges and emerging demands of a knowledge based society. We have confidently set ourselves for adopting latest technologies to facilitate easy interface for exchange of information.
Devise and monitor strategies and implementation of useful examination system at colleges/institutes.
Online mode of examination form filling that will help generate student summary & Hall Tickets to optimize time and eliminate errors.
Online mode of Question paper transmission that will help to reduce paper work and save the environment and check the question paper leakage.
Provide guidelines for creating and including questions in the banks which then can act as the sole source for question paper generation.
Create question banks for various subjects and courses to facilitate random selection of question papers.
Inform and train teaching and non-teaching faculty members about the conduct and organization of examination and examination material.
Online viewing of whole examination process at college/institutes from University itself to curtail the unfair means cases.
Strengthen Student Facilitation Centre for prompt response and delivery of student queries.
Coordinate with all other higher and regulatory agencies to ensure credibility and stability to examination system.
Respect autonomy, promote excellence and inclusiveness where they exist and are due.