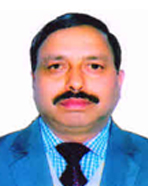 Name:Ashok Kumar Dhiman, H.P.S.A.S.
Email ID:  finofficerhimtu@gmail.com
Qualification : B.A., M.COM., MBA (HR)
Contact No: +91-94180-54486
Shri Ashok Kumar Dhiman joined the Finance Department, H.P.  in ministerial capacity in 1985.  After successfully clearing HPSAS Preliminary Examination, he underwent nine months' rigorous training in the field of finance and accounts in HIPA, Fairlawns, Shimla and successfully completed HPSAS Part-I & II Exam conducted by H.P.Public Service Commission. In the year 1995, he was posted in Department of Food & Supplies, H.P. as Section Officer (F&A). He had also worked in Bhakra Beas Management Board in various capacities and Deputy Controller (F&A) in HPPWD Central Zone, Mandi.
 
He joined the H.P.Technical University, Hamirpur on 7.8.2014 and performing the statutory functions of Finance Officer as per H.P.T.U. Act.